Turtle : an original and impactful advertising medium
The development of your notoriety is a permanent challenge. Do you want to differentiate yourself and use communication and media in accordance with the values ​​of your company?
Turtle offers you the first Out-of-Home (OOH) soft mobility mobile display in Paris. Benefit from our mobile marketing unit.
Original, ecological and impactful, become our partner now.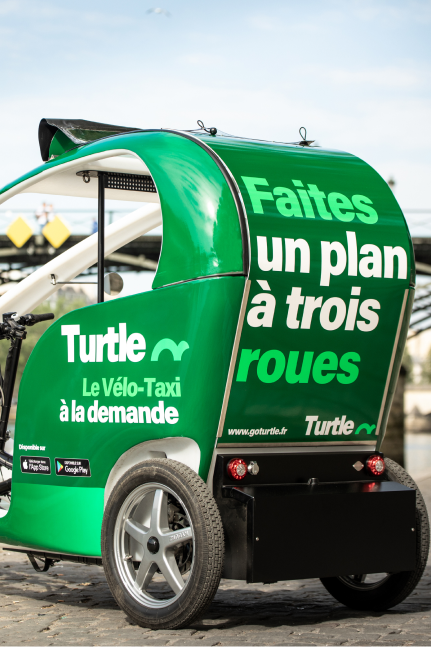 Mobile advertising, a modern and efficient device
There are many advertising media today in France. In urban areas in particular, mobile display is the one with the best ODV (opportunity to see) and memorization results.
💡
9people in 10 remember seeing advertising
👍73%declare that the communication is original
⭐63%believe that the display makes it possible to differentiate themselves
🏙️80%argue that the medium defines an urban caracter
Result of an IPSOS study carried out with 700 respondents
Advertising Turtle : display your brand in Paris
"79% of journeys by parisians are from city center to city center" - ADEME
Ecological
First fleet of pedicab advertising displays for responsible communication.
Visible
Our bikes run from 8am to 9pm and 6 days a week. On average, each bike travels 70 to 80 km per day and is constantly on the move.
Measurable
Statistical data is provided thanks to the permanent geolocation of our bikes.
Original
A unique 1.5m² support at the rear of the bike that creates a strong visual appeal.