Your events with in addition, Turtle
Corporate social responsibility (CSR) is now essential to the image of your company from an external point of view but also with your employees.
Each event is an opportunity for you to demonstrate your values ​​and your commitments (seminars, marketing actions, transport for your employees, company evenings, management committee, etc.).
Turtle supports you in this process: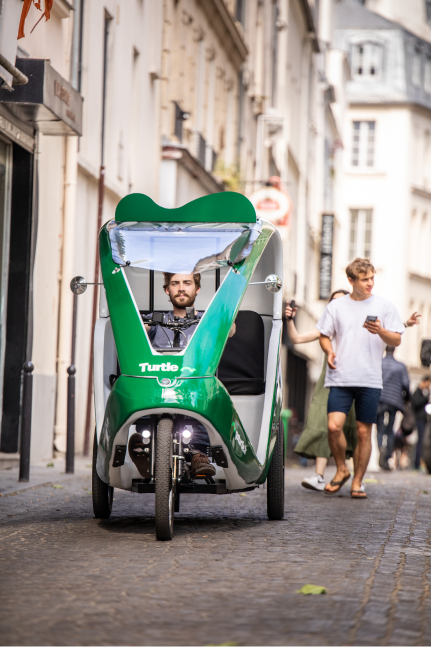 Train/Subway Shuttle
During your seminars, works councils or other events:
Privatization of Turtle taxi-bike to facilitate the mobility of guests between your event location and the train or subway station, for example.

VIP Transportation
During your events or your participation in external events
Advance booking of journeys to take the people of your choice from their home/hotel/office to the event/station or vice versa.
Personalization
Get noticed by fully customizing the bike
Privatization of Turtle taxi-bike with the possibility of making it unique (layout for demonstration, shooting, filming, roadshow, etc.).Tell us about your project!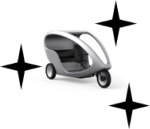 For your employees
Allow your employees to travel more responsibly by integrating Turtle into their mode of travel accepted by the company.
Business trip to Paris intramural: Save time by avoiding traffic jams
Home-to-work travel: Turtle journeys are integrated into the company's Sustainable Mobility Package.
For your prospects
Increase your conversions by offering a Turtle ride to the nearest partner store to view your products or complete their purchase.
Drive-to-Store: With custom bikes, invite customers to visit your store
Web-to-Store: facilitate access to your stores with Turtle


For your customers
Reward your customers and increase your average basket by offering a transport service to their home.
Store-to-Home: A Turtle trip offered from a purchase of €100, for example.
Respond to the congestion problems of your customers related to their purchases.

Tell us more about your project
Our sales team will be happy to get back to you to discuss your expectations.