Offer an ecological mobility service to your visitors
Access to your event/ City tour/ Personalization
Vos évènements
avec Turtle

Offrez un service de mobilité écologique à vos visiteurs
Accès à votre évènement/ Visite de la ville/ Personnalisation

Unique experience
Panoramic view and private ride for up to 2 people per bike
Faster
Turtle uses cycle-lanes and avoids traffic jam
More sustainable
Our cab bikes emit 100x less CO2 than a thermal car
Fairer
Our electrically assisted bicycles are 100% driven by salaried drivers
Visitor transportation
Privatization from 1 hour to several days
Book up to 20 Turtle Chauffeur-Driven Bikes for your event. Types: Multi-trips, Shuttles, Marketing operations, etc.
Available everywhere in Europe
Possibility of customization
The operation can generally be financed by a sponsor/partner of the event as an original and impactful marketing support.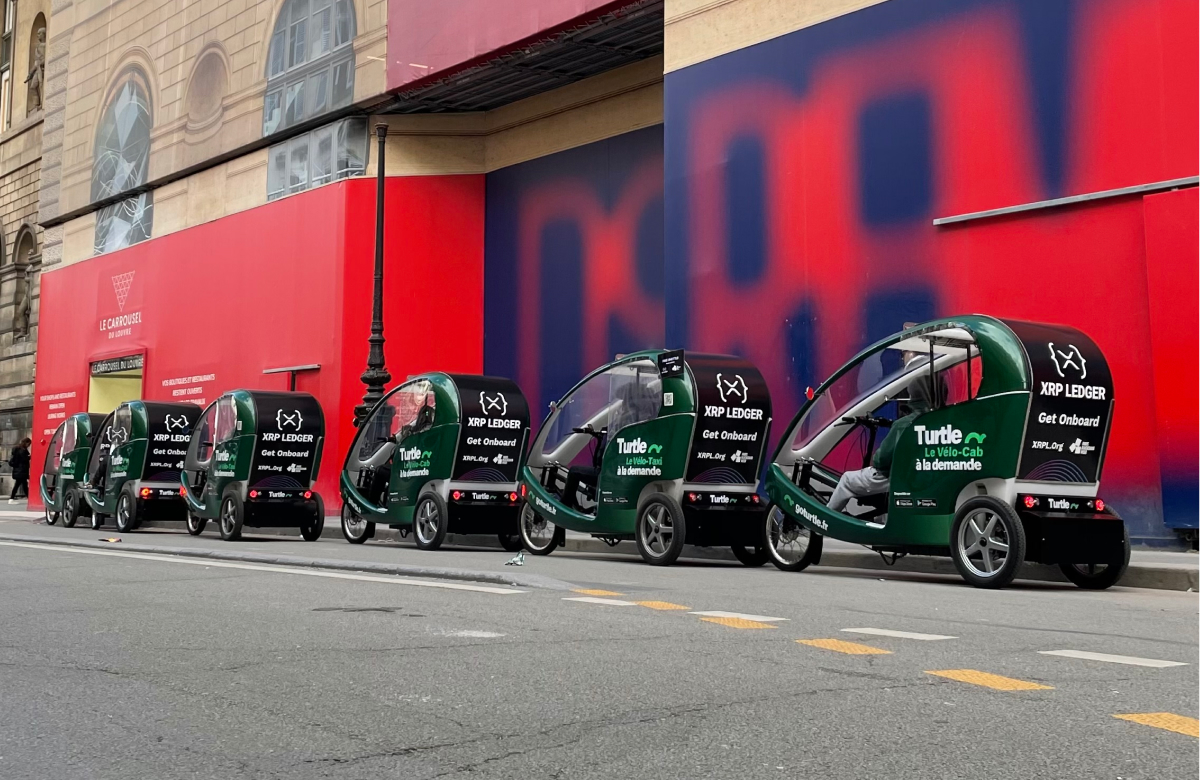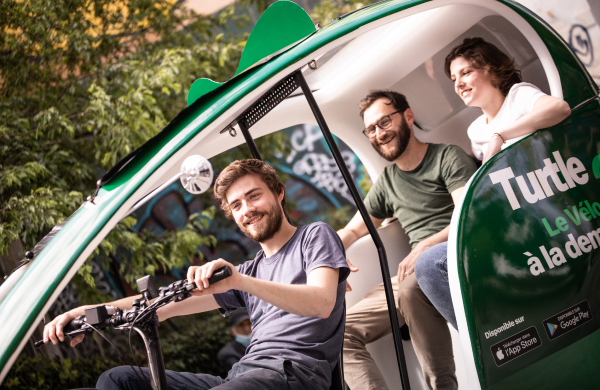 Business Tourism
Discover Paris differently
Offer a private tour of Paris to discover the iconic places and monuments of the capital.
Available in other cities.
Exclusive slow-tourism rides
Photo breaks / Audioguide included in several languages ​​/ Free Wifi
Customizable tours
Personalization & Advertising
Remarkable advertising device
Use our Turtles (back panel, full wrap or interior wrap) to highlight your brand, your event or your partners.
100 000 OTS/day/vélo
Thanks to an original, innovative and ecological support, our bikes attract attention and curiosity. Speed ​​suitable for everyone: pedestrians, bicycles, cars, buses.
Rendez unique votre Turtle
Personalize your Turtles with a specific covering but also many accessories: speakers, flags, balloons, flyers/goodies, driver outfits, etc.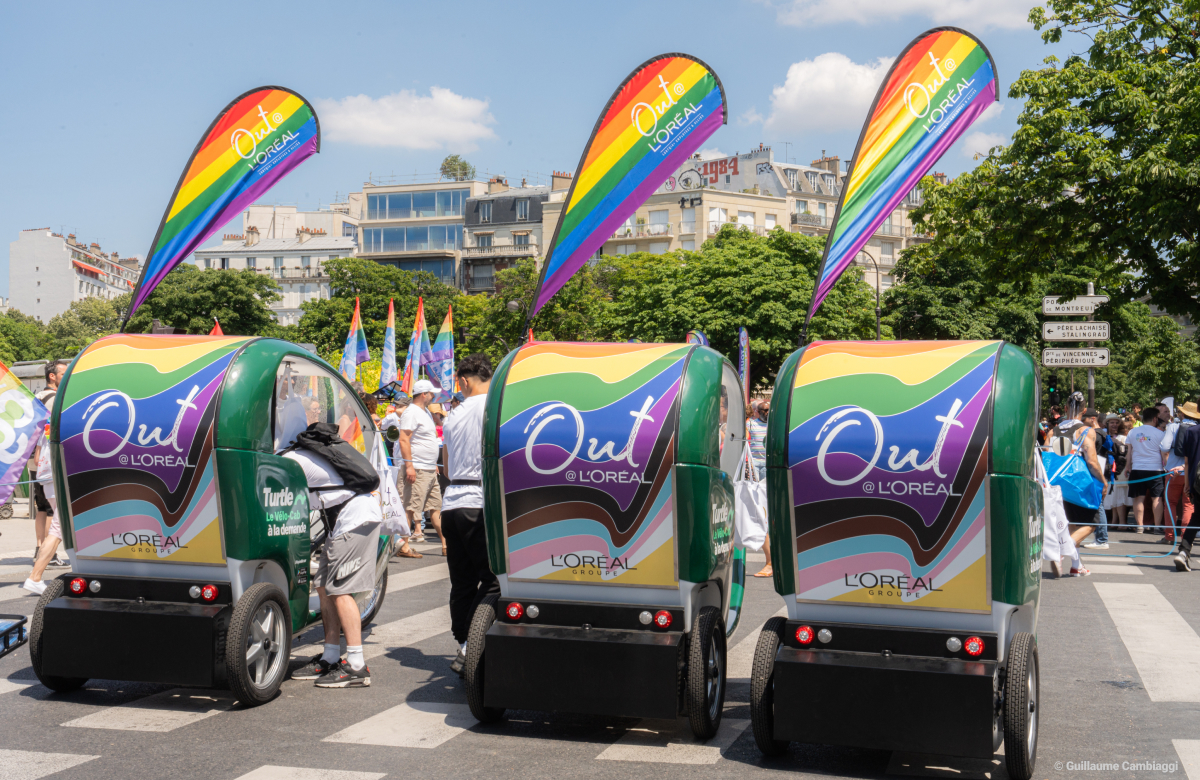 Pour vos prospects
Augmentez vos conversions en proposant un trajet Turtle vers le magasin partenaire le plus proche pour découvrir vos produits ou terminer son achat.
Drive-to-Store : Avec des vélos personnalisés, invitez les clients à visiter votre magasin

Web-to-Store : facilitez l'accès à vos magasins avec Turtle


Pour vos clients
Récompensez vos clients et augmentez votre panier moyen en proposant un service de transport à leur domicile.
Store-to-Home : Un trajet Turtle offert dès 100€ d'achat par exemple.
Répondez aux problématiques d'encombrement de vos clients liés à leurs achats.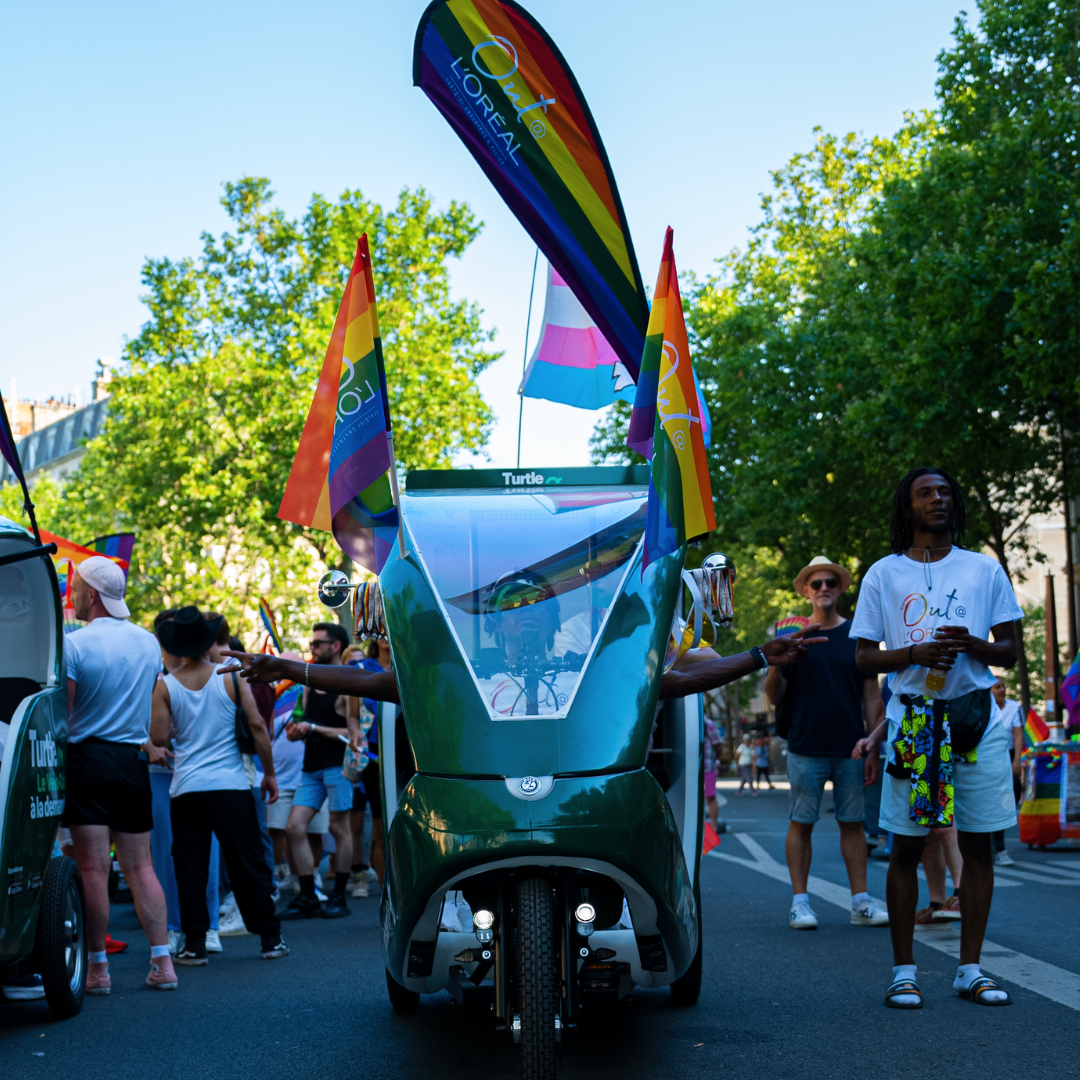 Pride 2023
#exhibition
Turtle accompanied L'Oréal Groupe and Rosa Bonheur to increase their visibility during the event ...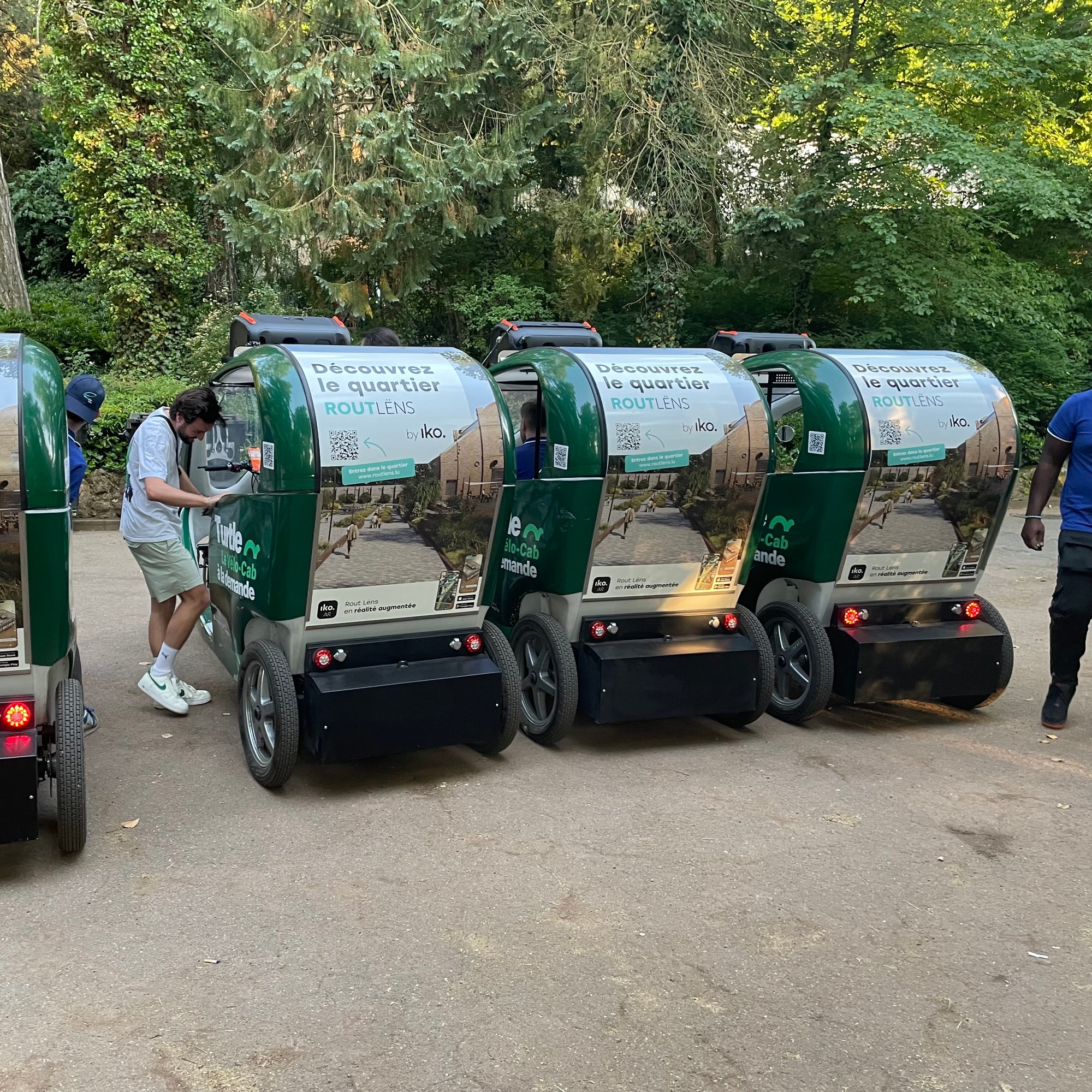 Franco-folies Luxembourg
#festival
IKO Real Estate offered the shuttle to festival-goers to facilitate their access to the festival and promote their eco-district...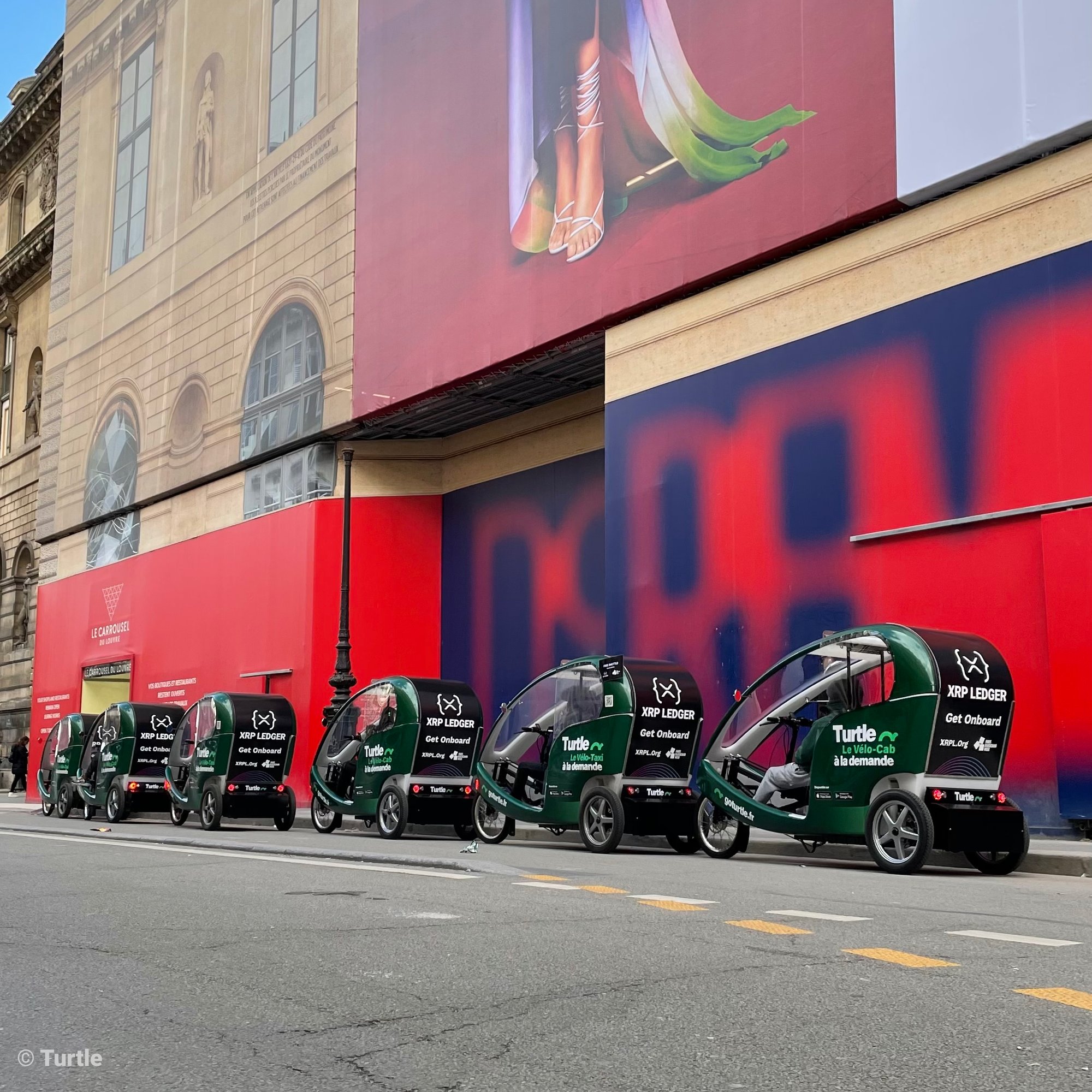 Paris Blockchain Week
#exhibition
Impactful marketing support for the sponsor and ecological shuttle service for visitors to the show...
Tailor-made weather protection
After the Summer Body version of the Turtle in the summer, we designed tailor-made weather protection against bad weather.
As you can see in the video shown opposite, the Turtles are equipped with integral protections with a door to access the back of the bike.
So, no risk of rain or cold due to the wind, you can use our services all year round! In addition, winter blankets are available.