How to get around Paris during the Olympics Games 2024?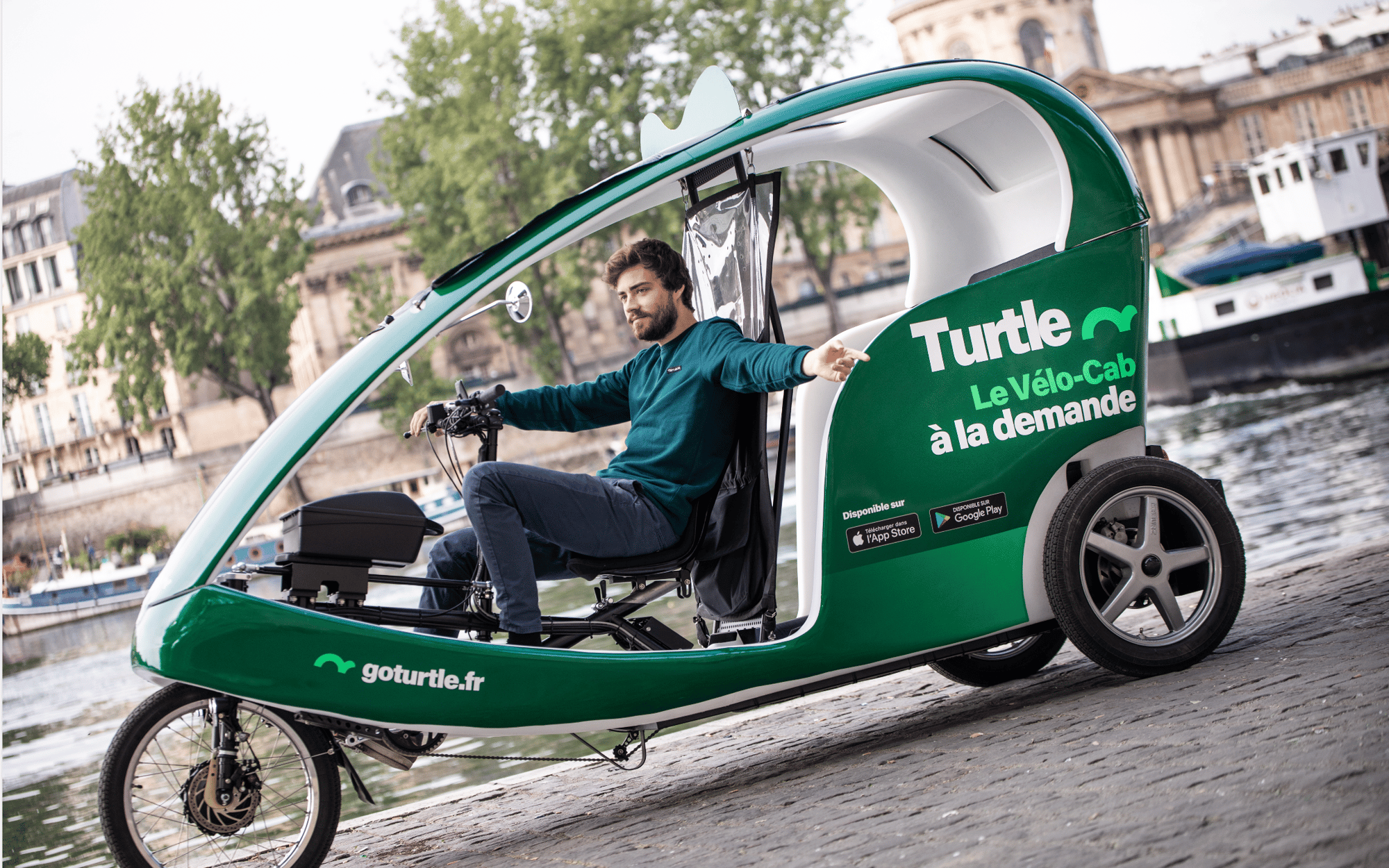 Get around Paris in the most practical way as you explore the vibrant streets of Paris during the highly anticipated 2024 Olympic Games with Turtle. Our team of professional chauffeurs are here to provide you with an unforgettable experience in our state-of-the-art pedicabs.

Sit back and relax in the comfort of our pedicabs, as our skilled chauffeurs navigate through the bustling city, ensuring a smooth and enjoyable ride to your desired destination. Whether you're heading to one of the Olympic venues or exploring the iconic landmarks of Paris, our chauffeurs will ensure that you arrive in style and on time.

With our private chauffeur service, you can focus on enjoying the Olympic Games and all that Paris has to offer, while we take care of the transportation logistics. Our pedicabs are eco-friendly and provide a unique and sustainable way to navigate the city, ensuring that you leave a minimal carbon footprint during your visit to the Olympic Games.

Don't miss out on this exclusive opportunity to travel fast and green during the Paris 2024 Olympic Games. Book our private chauffeur service now and indulge in the convenience of exploring the city in our top-of-the-line pedicabs. Sit back, relax, and let us take care of the rest.

Each pedicab can transport 2 persons but you can book several Turtle at the same time!
Order from the app or privatize a Turtle.
Get a private driver during your stay in Paris :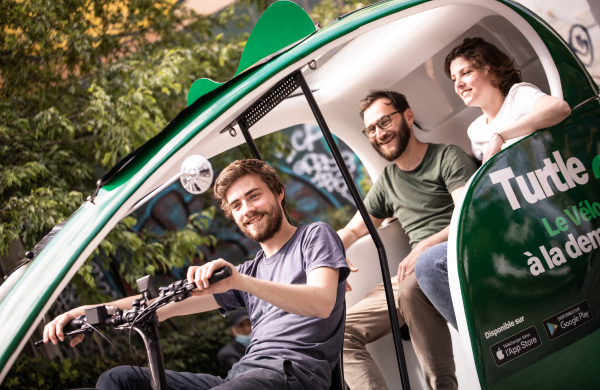 You have the opportunity to exclusively reserve our pedicabs with chauffeurs for several hours or even multiple days. Whether you want to explore the vibrant streets of Paris for an extended period or need a reliable transportation option throughout your entire stay, our private pedicab service is at your disposal.
Indulge in the freedom and flexibility of having a dedicated chauffeur and pedicab at your service for an extended duration. You can comfortably plan your itinerary, knowing that your personal chauffeur will be there to whisk you away to your desired destinations at any time. Whether you want to immerse yourself in the Olympic Games or simply explore the city's iconic landmarks, our chauffeurs will ensure a seamless and enjoyable experience throughout your time in Paris.
By opting for our private chauffeur service for multiple hours or days, you can fully embrace the convenience and luxury of having your own dedicated transportation. Sit back, relax, and let our skilled chauffeurs take care of all the logistics, ensuring that you make the most of your time in the city without any transportation worries.
With our pedicabs being eco-friendly and sustainable, you can also have peace of mind knowing that your extended exploration of Paris during the Olympic Games is leaving a minimal carbon footprint. By choosing our private pedicab service, you are not only indulging in comfort and convenience but also contributing to a greener and more sustainable future.
Don't miss out on this exclusive opportunity to enjoy the freedom and flexibility of our private chauffeur service for several hours or days during the Paris 2024 Olympic Games. Book now and embark on a memorable journey through Paris, knowing that your transportation needs are in the hands of our professional chauffeurs.
Where are the Olympics venues in Paris ?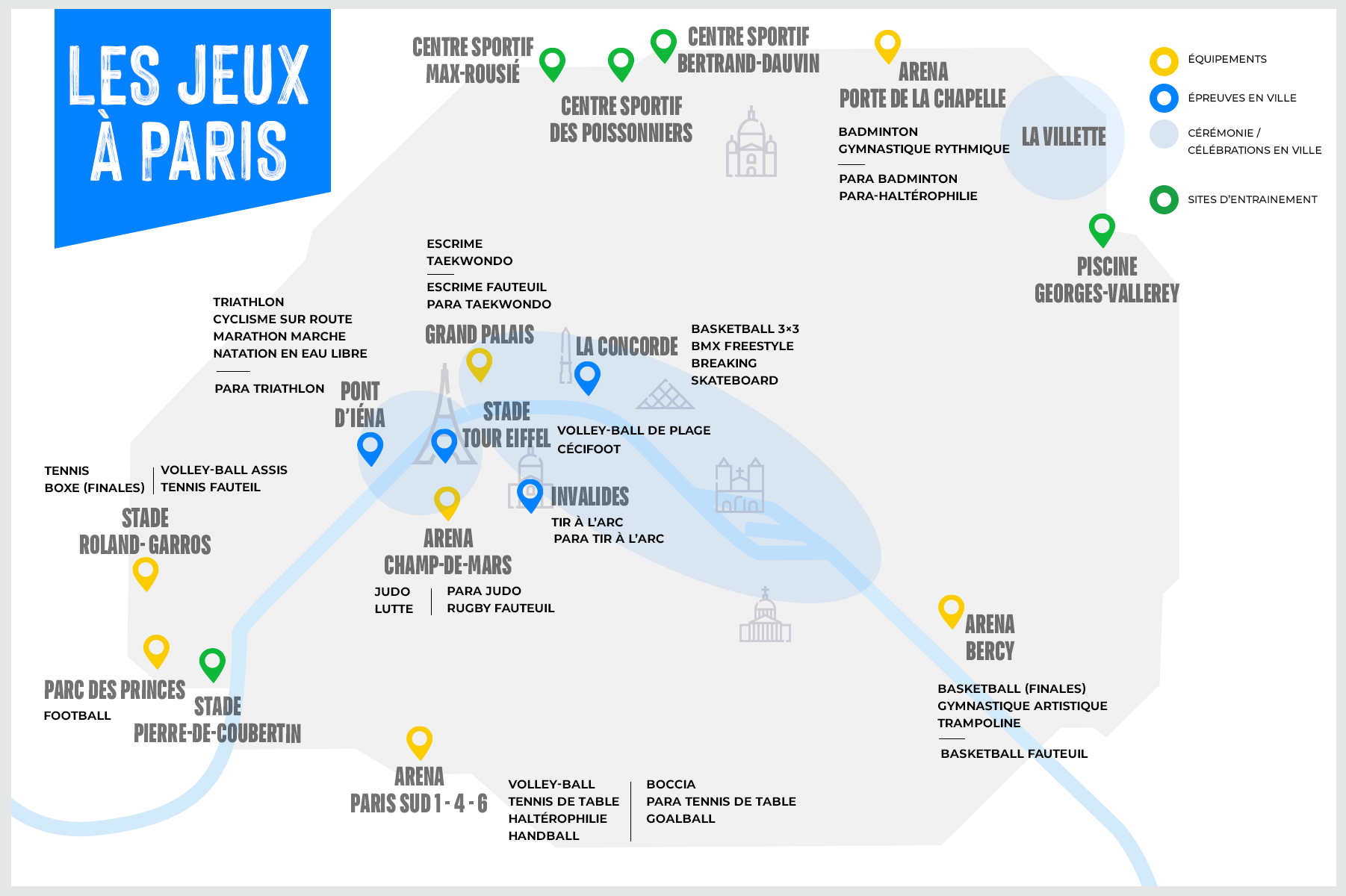 The various Olympic sites for the Paris 2024 Games offer a breathtaking array of venues and locations. From the iconic Stade de France, where the Opening and Closing Ceremonies will be held, to the state-of-the-art Aquatics Center, designed to host swimming and diving events, each site showcases the rich history and vibrant culture of Paris.
One of the highlights is the Champs-Elysées, which will serve as the backdrop for the road cycling events, providing athletes and spectators with a stunning view of this world-renowned avenue. The Grand Palais, a historic monument and exhibition hall, will be transformed into a stunning venue for fencing and taekwondo competitions.
For those seeking a taste of Parisian elegance, the Eiffel Tower will host the beach volleyball tournament, offering players and fans a truly unique and picturesque setting. The Roland Garros Stadium, famous for its annual tennis tournament, will be the stage for the Olympic tennis matches, providing players with a chance to compete on the same courts as their tennis idols.
Paris 2024 truly offers a diverse range of Olympic sites, each with its own charm and significance. From iconic landmarks to modern facilities, these venues will not only provide a memorable experience for athletes, but also allow spectators to immerse themselves in the beauty and history of Paris while witnessing the pinnacle of athletic achievement.
How to avoid the traffic during the Olympics ?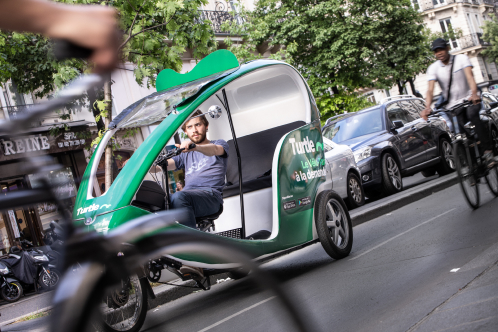 Traffic congestion during major events in Paris is a prevalent issue that demands an innovative solution. Introducing the pedicab, a revolutionary mode of transportation that provides a sustainable and efficient way to navigate through the bustling streets of the city. We are allowed to use the cycle lanes and bus lanes, avoiding the traffic jam of the city. With its compact design and eco-friendly nature, the pedicab offers a refreshing alternative to traditional vehicles, allowing both locals and tourists to seamlessly move around during these crowded occasions.
By choosing the pedicab, not only can you avoid the frustrating gridlock, but you can also contribute to reducing carbon emissions and promoting a greener future for Paris. Experience the charm and convenience of the pedicab, and discover a new way to embrace the excitement of grand events in the City of Light.